Wellington, Florida, USA – March 19, 2023 – Rising talent soaked up the spotlight on the Sunday afternoon, the final day of Horseware Ireland sponsored Week 10 at the Winter Equestrian Festival (WEF) in Wellington, FL. The Hermès Under 25 Grand Prix Series concluded competition in the International Ring with the highly anticipated $50,000 Hermès Under 25 Grand Prix Series Final after four weeks of U25 competition.  
Eighteen-year-old Augusta Iwasaki (USA) and Fresca topped the field in the season finale.
Andy Christiansen Jr.'s (USA) final track of the week produced five fault-free efforts across the first phase to ensure an exciting jump-off. The series standings experienced a shake-up as series leader Ashley Vogel (USA) had a miscommunication in the triple combination and ultimately chose to retire from the competition. Hill who has held second place in the series rankings leading up to the day, earned herself the last slot in the jump-off with her long-time partner La Belle SCF. Joining her in returning for the short course was Iwasaki, Zayna Rizvi (USA), Eva Fisherman (USA), and Daniel Geaney of Ireland.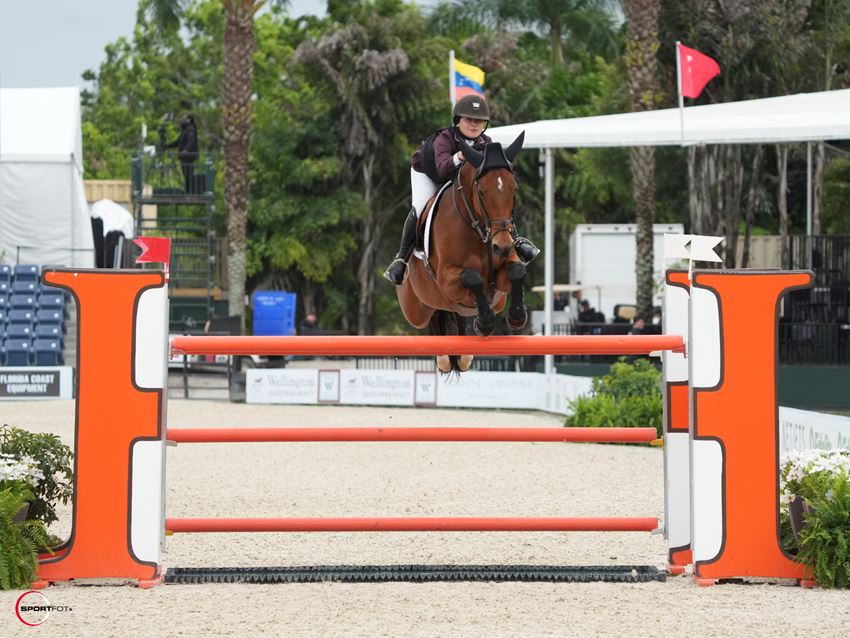 In a nail-biting jump-off, Iwasaki, a Southern Methodist University (SMU) freshman managed to produce one of only two clear courses across both phases with Iwasaki & Reilly's 13-year-old KWPN mare (Carambole x BMC Nassau). Geaney boasted the remaining fault-free finish, but his time of 40.26 seconds on JP Stables BV's 10-year-old Belgian Warmblood gelding Nixon Van D'Abelendreef (Diamant De Semilly x Toulon) was four seconds too slow to beat Iwasaki's lightning fast finish of 36.98 seconds.
Geaney settled for second while Zayna Rizvi (USA) secured the third-place position as the fastest four-falter with the Optimus Agro NV's 13-year-old Belgian Sport Horse mare Exquise Du Pachis (Vagabond De La Pomme x Ogano Sitte). Iwasaki is decidedly new to the Under 25 series making her debut in this 2023 season as she balances competition and attending school as part of the SMU Equestrian Team.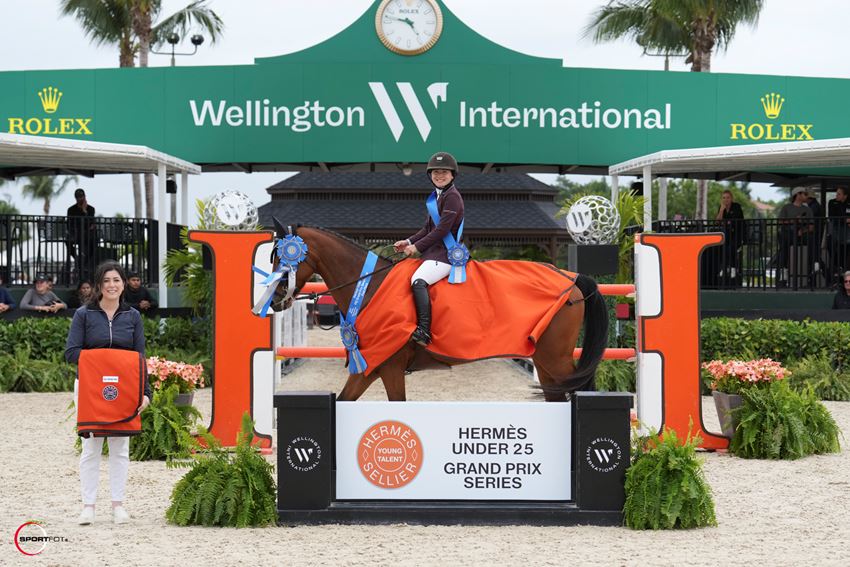 "It's been a really crazy time," Iwasaki explained as she gathered her things to head to the airport after the win. "I honestly don't know how everything just fell into place so perfectly, but she's an incredible horse and we trust each other. I am on spring break this week so my dad drove her down from Ocala and has been taking care of her for me; I can't thank him enough."
The match is a relatively new partnership but one that has been defining for Iwasaki as she makes a name for herself in the jumper ring.
"I got this horse last summer from Roberto Teran, and I can't thank him enough because she's been amazing for me," she gushed. "Today's course was definitely technical, but I could tell as soon as I started jumping around the schooling area that she was ready."
While an unfortunate rail kept Hill and her own 12-year-old Belgian Warmblood mare (Diktator Van De Boslandhoeve x Baldini) from taking the class title, their fourth-place finish paired with a prolific season earned them the overall series winner award – a title she has been diligently working towards.
"This series has been a really good opportunity to step up in the FEI classes without competing against the big guys, so it's really a good steppingstone for sure," explained Hill. "It's a competitive group of horses and riders, and the course designers do a good job. It pushes you and gives the riders something to strive for, so I've really enjoyed it."
The 24-year-old rides professionally out of her family farm in Kentucky and works under the tutelage of Olympian Daniel Bluman (ISR).
"I've been riding horses for Daniel for the past two years and just last season he started helping me full time," she explained. "He does as much as he can for me either in person or from afar, so that's been amazing."  
Final Results – $50,000 Hermès Under 25 Grand Prix Series Final
1) Augusta Iwasaki (USA) & Fresca – 0 / 0 – 36.98
2) Daniel Geaney (IRL) & Nixon van d'Abelendreef – 0 / 0 – 40.26
3) Zayna Rizvi (USA) & Exquise du Pachis – 0 / 0 – 37.60
Source: Press Release from ESP – Equestrian Sports Productions
Photos: © Sportfot
---